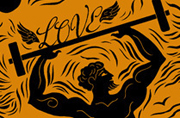 NPR invited poets from the far reaches of the globe to compose original works celebrating the Olympic Games. The verse below is by poet Ouyang Yu, who was born in China and moved to Australia in 1991. He is a prolific writer of poetry, fiction, nonfiction, literary translation and criticism in English and Chinese.

Of his poem Lifting, Yu writes: "Much as I admire weightlifting heroes or heroines, I can't help reminding myself that, however powerful a weightlifter is, he or she can't lift himself or herself up. The magic of the word is that, when well-lifted, it has the power to transform."
To hear Mark Staufer's reading of Yu's poem, visit: NPR Arts & Life: Poetry Games.
Lifting
by Ouyang Yu
For years
I have been dreaming
of turning
writing into a sport
in the Olympic Games
that is called, tentatively
Wordlifting
in which I'd give
my simplest performance
by lifting
the lightest and the liveliest
word: Love
till it flies
lifting me, weightless
into a sky
of loving
eyes