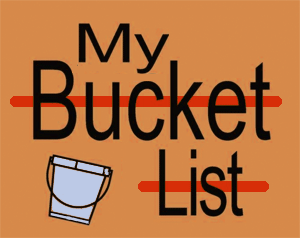 In her recent guest essay in the New York Times, Kate Bowler (associate professor at Duke Divinity School and host of the podcast Everything Happens) suggests that the modern bucket list industry is a form of experiential capitalism; with at least a hundred books with titles like 1,000 Places to See Before You Die, it can provide enough activities to "keep people industriously morbid…. Hang gliding. Snorkeling. Times Square on New Year's Eve and Paris in the spring…."
She begins her essay with the words: "I wish someone had told me that the end of a life is a mathematical equation. At 35, the doctors tell me I have Stage IV colon cancer and a slim chance of survival." The following is a brief selection from her longer essay, itself an adaption from her forthcoming book No Cure for Being Human.
* * *
The problem with aspirational lists, of course, is that they often skip the point entirely. Instead of helping us grapple with our finitude, they approximate infinity. They imply that with unlimited time and resources, we can do anything, be anyone. We can become more adventurous by jumping out of airplanes, more traveled by visiting every continent, or more cultured by reading the most famous books of all time. With the right list, we will never starve with the hunger of want.
A few years ago, the father of one of my divinity students discovered that he was in the last months of life. Much to everyone's astonishment, his father didn't have a wish list. In fact, his father didn't wish for anything at all. Not a trip. Not a meal. He sat contentedly in his overstuffed recliner in the living room humming about how much he loved his family.
I think back on this story and wonder: Do people age into acceptance? Is this personality or maturity or a natural realism? Had he already accomplished what he wanted to do? Had he seen his kids get married, reached an anniversary or hit some milestone? What amounted to enough?
I want two kids.
I want to travel the world.
I want to be the one to hold my mother's hand at the end.
What strange math. There is nothing like the tally of a life. All of our accomplishments, ridiculous. All of our striving, unnecessary. Our lives are unfinished and unfinishable. We do too much, never enough and are done before we've even started. We can only pause for a minute, clutching our to-do lists, at the precipice of another bounded day. The ache for more — the desire for life itself — is the hardest truth of all.