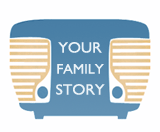 Ben Feiler's lovely New York Times piece ("The Stories That Bind Us", 3.15.2013) is adapted from his recently published book, "The Secrets of Happy Families: How to Improve Your Morning, Rethink Family Dinner, Fight Smart, Go Out and Play, and Much More."

According to Feiler's thesis, families that tend to be happier share a narrative — one that creates, refines and retells the story of their positive moments and of their ability to bounce back from the difficult ones.  The following is a short selection from his article.
 *                         *                         *
Psychologists have found that every family has a unifying narrative, he explained, and those narratives take one of three shapes.
First, the ascending family narrative: "Son, when we came to this country, we had nothing. Our family worked. We opened a store. Your grandfather went to high school. Your father went to college. And now you. …"
Second is the descending narrative: "Sweetheart, we used to have it all. Then we lost everything."
"The most healthful narrative," Dr. Duke continued, "is the third one. It's called the oscillating family narrative:  'Dear, let me tell you, we've had ups and downs in our family. We built a family business. Your grandfather was a pillar of the community. Your mother was on the board of the hospital. But we also had setbacks. You had an uncle who was once arrested. We had a house burn down. Your father lost a job. But no matter what happened, we always stuck together as a family.' "
Dr. Duke said that children who have the most self-confidence have what he and Dr. Fivush call a strong "intergenerational self." They know they belong to something bigger than themselves.
Leaders in other fields have found similar results. Many groups use what sociologists call sense-making, the building of a narrative that explains what the group is about.
Jim Collins, a management expert and author of "Good to Great," told me that successful human enterprises of any kind, from companies to countries, go out of their way to capture their core identity. In Mr. Collins's terms, they "preserve core, while stimulating progress." The same applies to families, he said.
Mr. Collins recommended that families create a mission statement similar to the ones companies and other organizations use to identify their core values.
Any number of occasions work to convey this sense of history: holidays, vacations, big family get-togethers, even a ride to the mall. The hokier the family's tradition, he said, the more likely it is to be passed down. He mentioned his family's custom of hiding frozen turkeys and canned pumpkin in the bushes during Thanksgiving so grandchildren would have to "hunt for their supper," like the Pilgrims.
"These traditions become part of your family," Dr. Duke said.
Decades of research have shown that most happy families communicate effectively. But talking doesn't mean simply "talking through problems," as important as that is. Talking also means telling a positive story about yourselves. When faced with a challenge, happy families, like happy people, just add a new chapter to their life story that shows them overcoming the hardship. This skill is particularly important for children, whose identity tends to get locked in during adolescence.
<