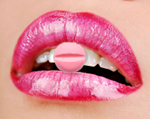 In a few short years, drugs aimed at boosting low libido among women may be approved for sale.  In his recent New York Times article (Unexcited: There May be a Pill For That, 5.22.13), Daniel Bergner explores the decrease in sexual desire experienced by many women in long-term, committed relationships, and possible ramifications for medicinal boosting of flailing monogamous relationships.  
The following is a short selection from his article that I particularly liked.

*                           *                         *
If all goes well, by 2016, Lybrido and Lybridos might be on the market.
Is it possible, after all, that through the pharmaceutical industry a fairy-tale ending could come to pass? Perhaps the fantasy that so many of us harbor, consciously or not, in the early days of our relationships, that we have found a soul mate who will offer us both security and passion, till death do us part, will soon be available with the aid of a pill.
But of course swallowing a tablet can take us only so far. Chemically enhancing a woman's desire might play out in all kinds of ways within a relationship. Some couples might feel closer, others might feel desolate because, despite more sex, their bond isn't stronger. Wives might yearn for the old seductive efforts of their husbands, even if those gestures stopped working long ago. Women might feel yet more pressure to perform: Why not get that prescription? their partners might ask; why not take that pill?
And men, if they are willing to confront the truth, might not be so happy about the reminder, as their partners reach for the pill bottle, that their women need chemical assistance to want them. All the agonies that have existed since the dawn of monogamy will still pertain, many of them coming down to the craving to feel special.
Beyond what might happen in millions of bedrooms, it's even more difficult to foresee what societal transformations might be stirred. Just as with the birth-control pill, a foreboding not only about sex itself but also about female empowerment may be expressed in a dread of women's sexual anarchy.
Over the last decade, as companies chased after an effective chemical, there was fretting within the drug industry: what if, in trials, a medicine proved too effective? More than one adviser to the industry told me that companies worried about the prospect that their study results would be too strong, that the F.D.A. would reject an application out of concern that a chemical would lead to female excesses, crazed binges of infidelity, societal splintering.
Gaining control of their reproduction in the '60s affected not just women's sex lives but also everything from their social standing to economic empowerment. What might it mean for conventional structures if women could control, with a prescription, the most primal urge? So many things, personal and cultural, might need to be recalibrated and renegotiated, explicitly or without acknowledgment. The cumulative effect of all those negotiations could be hugely transformative, in ways either thrilling or threatening, depending on your point of view.
Maybe.
*                       *                        *
 Emma Gray, in her Huffington Post comment on Bergner's article (Does Monogamy Cause Female Sexual Dysfunction — And Could A Pill Be The Answer?, 5.24.2013), has a different take:
"…for women who have grown up being conditioned for monogamy and find themselves fighting to stay happy and sexually satisfied in their long-term relationships, a pill like Lybrido could offer a practical helping hand. It's not the ideal, but it's something."