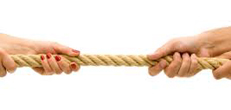 When parents divorce or dissolve their relationship, they are well-served in raising healthy, well-adjusted children by communicating clearly, cooperatively and respectfully about parenting issues.
While these tips are intended primarily for divorced parents, they are most certainly helpful for all parents – as very few parents share the exact same style or approach.

To the degree possible, try to reach an amicable resolution of your differences, so that your child is not torn in two directions by his parents' conflict nor confused in his loyalties — a very uncomfortable and distressful place for a child to be.
Even where and when you disagree, stay respectful of the other parent and of his/her different parenting style. This allows you to model cooperation and healthy respect for differing opinions, and avoids testing the children's loyalty to one parent or the other.  The more supportive you are of one another's efforts (and remember – supportive does not mean you need to agree), the less likely your child is to act out and exploit your differences.
Go beyond respect: Encourage your child to acknowledge the other parent with gifts, cards, expressions of appreciation on birthday, special occasions, and even ordinary days.
Communicate clearly, concisely and regularly with the other parent:–  Share pertinent information about school, health and hygiene, emotional strains or challenges your child may be experiencing, sports events, field trips, changes in schedules and so forth.–  Share what you reasonably need from your co-parent to support your parenting efforts;–  Avoid frequent last-minute schedule changes.
Boundaries, boundaries, boundaries.  Checking in does NOT mean intervening or interfering.  Unless your children's emotional or physical well-being is is being seriously jeopardized, avoid crossing the other parent's boundaries by offering your advice or alternative approach.  Children can actually benefit from observing multiple ways of doing things.
Because your children are repeatedly transitioning from our household to another, from one set of rules to another, focus on creating consistent rules and boundaries around discipline, schedules, meals, bedtimes in your own home.
Forget 50-50 when it comes to parenting.  Nothing can be totally equal; abandon the power struggle of making things totally equal, focusing instead on your child's best interests.  Share parenting chores as equally as possible but with flexibility, as your schedules permit.
Involve your extended family including your in-laws.  In-laws, grandparents, aunts, uncles on both sides of the family can serve as a valuable resource and support when unusual or urgent circumstances require additional or alternative childcare coverage.