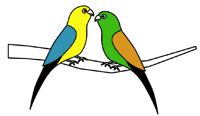 The essential strategies that promote peaceful living between partners under normal circumstances are beautifully summarized in this morning's NYTimes –  in the context of coping with the stresses of the current pandemic.
The following is an adapted version of Amelia Nierenberg's longer article (7.11.20).
Here they are. Strategies for getting through the pandemic (and life!) together:
Remember that you are on the same team.
In difficult situations, therapists often recommend thinking not just of "you" and "me," but talking about your relationship as a third entity. Rather than considering your partner's needs in opposition to yours and then trying to negotiate, consider instead what is best for the relationship.
It is also helpful to present a united front when explaining shared (quarantine-related) decisions to friends and family. Any sort of "I would, but he's afraid" seeds resentment and can amplify the problem far past the boundaries of your own home.
Stay away from "right" and "wrong."
It's always tempting to drop some knowledge when you're in the middle of an argument. But generally speaking, appealing to data, in lieu of listening to the emotions and concerns of your partner, is a losing strategy. Thinking about things in terms of "right" and "wrong" is often less helpful than trying to understand how and what the other person feels.
Strange as it sound, it is totally possible to understand things you don't agree with.
Another way of thinking about this: "Would you rather be right, or would you rather be in a loving, connected relationship?"
Facts and concrete information can, of course, be helpful and often necessary when considering joint decisions (particularly around around our children's, or our own safety). But when offering data, make sure you're doing it in the spirit of educating and working with your partner, rather than hammering your own point home.
Don't assume you can read your partner's mind.
It is common for couples therapists to hear a partner say: "I already know what she is going to say," or, "I already know what he thinks." This is generally untrue.
In any fraught situation, sit down with your partner and listen. Instead of offering rebuttals, try to treat it more like an interview about where he or she is coming from. Ask open-ended questions — which can't be answered with a simple "Yes" or "No."
Give your partner the benefit of the doubt, using language like: "I know you probably don't mean to come across as dismissive or condescending right now, but when I hear you say I shouldn't worry, I find myself feeling disregarded." Asking and listening help uncover our partner's deeper concerns and feelings related to a particularly stance, as opposed to perceiving that stance as simply a preference that we are justified in knocking down.
You will know you have truly listened when you can describe your partner's perspective in a supportive way — regardless of whether you agree with him or her.
Find a way to do both things.
Just as fights about the dishes are not always just about the dishes, fights about going to a birthday party post-lockdown aren't just about the party. Look deeper into the anxieties and frustrations undergirding each position to understand the meaning they carry.
Thoughtfully consider whether you can respond to your partner's emotion or respond to his/her need without doing the precise activity s/he is asking for.
Aiming for compromise or a middle ground is not the only way to find resolution. Consider other ways to meet the needs or interests that prompted the original request.
This is a pandemic.
While everyone's concerns need to be respected, it is sometimes helpful to defer to the partner who is more concerned about issues of health and safety.