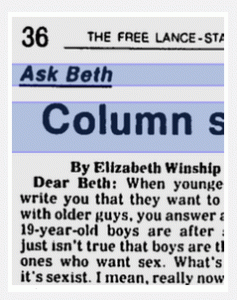 "How can a boy kiss a girl who wears braces?"
"I have enormous ears…. Is there an operation to whittle them down to size?"
"I am in terrible trouble and I don't know where to turn. I'm 14 and I'm pregnant."
"Should I sleep with my boyfriend?" (asked by a 10-year-old girl)
During the cultural upheaval of the 1960s and 70s, questions arose as never before about formerly forbidden topics such as sex.  Thousands of teenagers and their parents, unable to find answers elsewhere, sent letters (first on paper and later by email) to Elizabeth Winship's "Ask Beth" column in The Boston Globe, seeking her frank, detailed, sympathetic, and often witty advice on how to deal with delicate topics.

Over the course of 35 years, The Boston Globe column made her one of the nation's most sought-after advisers on matters such as teen sexuality.   The column, said one of her daughters, was the first "to treat young people with complete respect and honesty."  At one point, the column was syndicated to 70 newspapers.
"If they awarded Pulitzers for good sense and stable judgment," Roger Angell wrote of Mrs. Winship in a 1985 profile in The New Yorker, "she would win one every year."
Born Elizabeth Coolidge in 1921 in Pittsfield, Mass., Beth graduated from Radcliffe in 1943 with a degree in psychology.  She married Tom Winship in 1942 (Winship, editor at The Globe from 1965-1984, died in 2002).  Mrs. Winship began reviewing books for The Globe in the early 1950s and later became its children's book editor. It was in 1963 that editors asked her to write a column that would connect with young readers.  Elizabeth Winship died last week at the age of 90.
*                     *                   *
Click on the image above to read three questions and answers in the "Ask Beth" column, that appeared in multiple newspapers across the nation in July of 1984.