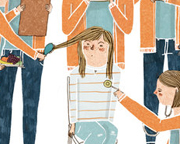 Therapist and author Madeline Levine (Teach Your Children Well: Parenting for Authentic Success, HarperCollins, 2012) shares her thoughts on raising successful children and on the dangers of "over-parenting" in a recent opinion piece in the New York Times.  The following is a selection.
*                            *                            *
Hanging back and allowing children to make mistakes is one of the greatest challenges of parenting. It's easier when they're young — tolerating a stumbling toddler is far different from allowing a pre-teenager to meet her friends at the mall. The potential mistakes carry greater risks, and part of being a parent is minimizing risk for our children.
What kinds of risks should we tolerate? If there's a predator loose in the neighborhood, your daughter doesn't get to go to the mall. But under normal circumstances an 11-year-old girl is quite capable of taking care of herself for a few hours in the company of her friends. She may forget a package, overpay for an item or forget that she was supposed to call home at noon.
Mastery of the world is an expanding geography for our kids, for toddlers, it's the backyard; for preteens, the neighborhood, for teens the wider world. But it is in the small daily risks — the taller slide, the bike ride around the block, the invitation extended to a new classmate — that growth takes place. In this gray area of just beyond the comfortable is where resilience is born.
So if children are able to live with mistakes and even failing, why does it drive us crazy? So many parents have said to me, "I can't stand to see my child unhappy." If you can't stand to see your child unhappy, you are in the wrong business. The small challenges that start in infancy (the first whimper that doesn't bring you running) present the opportunity for "successful failures," that is, failures your child can live with and grow from. To rush in too quickly, to shield them, to deprive them of those challenges is to deprive them of the tools they will need to handle the inevitable, difficult, challenging and sometimes devastating demands of life.
Children thrive best in an environment that is reliable, available, consistent and non-interfering. While doing things for your child unnecessarily or prematurely can reduce motivation and increase dependency, it is the inability to maintain parental boundaries that most damages child development. When we do things for our children out of our own needs rather than theirs, it forces them to circumvent the most critical task of childhood: to develop a robust sense of self.
There is an important distinction between good and bad parental involvement. For example, a young child doesn't want to sit and do his math homework. Good parents insist on compliance, not because they need their child to be a perfect student but because the child needs to learn the fundamentals of math and develop a good work ethic. Compare this with the parent who spends weeks "helping" his or her child fill out college applications with the clear expectation that if they both work hard enough, a "gotta get into" school is a certainty.
A loving parent is warm, willing to set limits and unwilling to breach a child's psychological boundaries by invoking shame or guilt. Parents must acknowledge their own anxiety. Your job is to know your child well enough to make a good call about whether he can manage a particular situation. Will you stay up worrying? Probably, but the child's job is to grow, yours is to control your anxiety so it doesn't get in the way of his reasonable moves toward autonomy.
*                                  *                                  *
See also: 
What is the Secret to Success is Failure?
Our Obsession with our Children's Happiness
On Spanx and Letting Your Child Fail