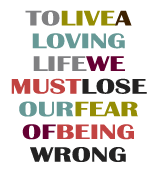 So much of interpersonal strife (like broader political conflict) derives from our insistence on remaining in that "place where we are right." Our conversations, supported by our sense of certainty and righteousness and devoid of self-questioning, doubt and even love, slide easily into conflict and standoff.
In this brief, beautiful poet, the great Israeli poet Yehuda Amichai* suggests that growth can blossom, not from our certainties, but from our "doubts and loves."  I include both the original Hebrew and the English translation.**

The Place Where We Are Right
by Yehuda Amichai
From the place where we are right
flowers will never grow
in the spring.
The place where we are right
is hard and trampled
like a yard.
But doubts and loves
dig up the world
like a mole, a plough.
And a whisper will be heard in the place
where the ruined
house once stood.
המקום בו אנו צודקים
מאת יהודה עמיחי
מן המקום שבו אנו צודקים
לא יצמחו לעולם
.פרחים באביב
המקום שבו אנו צודקים
הוא קשה ורמוס
.כמו חצר
אבל ספקות ואהבות עושים
את העולם לתחוח
.כמו חפרפרת, כמו חריש
ולחישה תשמע במקום
שבו היה הבית
.אשר נחרב
*                                  *                                 *
*  Yehuda Amichai (1924-2000) is considered by many, both in Israel and internationally, as Israel's greatest modern poet.  The first to write in colloquial Hebrew, he wrote about both issues of day-to-day life, and such philosophical issues as the meaning of life and death. Amichai has been credited with a "rare ability for transforming the personal, even private, love situation, with all its joys and agonies, into everybody's experience, making his own time and place general."
** "The Place Where We Are Right" by Yehuda Amichai, from The Selected Poetry of Yehuda Amichai, edited and translated from the Hebrew by Chana Bloch and Stephen Mitchell. © University of California Press, 1996.