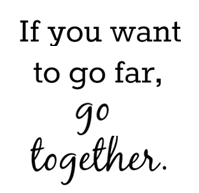 I came across a lovely African proverb (see full proverb at end of article), and am writing this post as an excuse to share it — sort of like sewing a dress to show off the necklace.
In many ways, it is much easier to live one's life alone.  No one challenges your lifestyle choices, your habits, opinions or idiosyncrasies; no one asks you to adapt, compromise or change.  
*                   *                   *
And yet, it is in safe and loving relationships that we are most primed to become the "biggest and best" versions of ourselves. And, the synergy that comes from working well with, and nurturing someone else often creates something much greater than each might have achieved alone.
Where we feel safe to take a look at our blindspots, let go of our defenses, challenge our "givens" and our steadfast truths, the process of personal growth has been launched.  
When we feel safe and accepted in a relationship, we are comfortable being ourselves, yet — at the same time — open to learning from our partner's ways of doing things (health-related, financial, lifestyle, emotional).  We feel supported and encouraged in pursuing personal goals, and in persisting when the going gets rough.
When a loving partner challenges our negative patterns and proposes alternatives ways of handling a situation, looking at ourselves in a new light becomes easier.  We gain an expanded sense of self when a loving partner introduces us to new experiences, new sources of pleasures or alternative ways of thinking to which we were never previously exposed.
If we enter the relationship with insecurities bred from family of origin dynamics, an emotionally supportive relationship helps us learn to trust, to integrate that another person can be dependable and available in ways our parents may never have been.  And in such a relationship we may discover that we, too, are capable of being loving, dependable and emotionally available in ways we had never imagined.