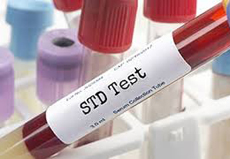 This period of coming to terms with viruses and transmitted diseases might be a good time to give some thought to whether we are protecting our sexual health, and whether we are doing our utmost to prevent the spread of sexually transmitted infections and diseases. Once we are all out of quarantine and sequestration, it would be wise to follow these guidelines coming from STDTesting.org.
* * *
Reported cases of STDs continue to rise with syphilis, gonorrhea, and chlamydia reaching record-high rates per 100,000 U.S. residents in 2018. While the statistics are alarming, there are ways to protect yourself and prevent the spread of sexually transmitted diseases.
Abstinence, vaccination, mutual monogamy, and proper condom use can, of course, help decrease or eliminate your risk of contracting an STD. But whether you've engaged in risky sexual behavior or just want peace of mind, STD testing can let you know exactly where you stand so you can receive proper treatment, if necessary.
Why should you be tested for STDs?
In their early stages, many STDs (sexually-transmitted diseases) are largely asymptomatic, which precipitates their spread by unknowing carriers. Sexually active adolescents and young adults (aged 15 to 24) are at particular risk, with nearly 10 million new infections occurring every year.
While prescription medication can easily cure many STDs, these infections can cause serious organ damage, infertility, and danger to unborn children if left untreated. STD testing is the only way to know for sure if you've been infected.
When should you be tested for STDs?
The Centers for Disease Control and Prevention (CDC), in collaboration with the United States Preventive Services Task Force (USPSTF), provides recommendations for STD testing among persons aged 13 to 65 for each of the common STDs. Below is a summary of their guidelines. Note: Risky or unsafe sexual practices include sex with multiple partners and anonymous partners and/or lack of condom use.
HIV
Once in a lifetime: All persons between the ages of 13 to 64
During pregnancy: All pregnant women
Annually: Persons with unsafe sexual practices and needle use
Three to six months: Men who have sex with men and/or have unsafe sexual practices
Chlamydia and Gonorrhea
Annually: Sexually active women aged 25 and under, individuals over age 25 who engage in risky sexual behavior, sexually active men, and gay or bisexual individuals
During pregnancy: At-risk pregnant women
Syphilis
During pregnancy: All pregnant women
Annually: Sexually active men and gay or bisexual individuals
Hepatitis B
During pregnancy: All pregnant women
In addition to the above recommendations, you should also be tested if you have recently engaged in unsafe sexual practices or have any of the following symptoms:
Genital sores or blisters
Unusual discharge from the urethra, vagina, or rectum
Painful urination
Unexplained genital rash
How does STD testing work?
STD testing is relatively quick, painless, and reliable. You can be tested at your primary care doctor's office, urgent care facilities, and health clinics. Additionally, at-home test kits are available that test for one or multiple STDs. Some kits provide rapid results while others require a mailed-in sample and post results to your online account. Regardless, sample collection is fairly similar among the testing sites.
* * *
This information is provided by STDTesting.org, a wonderful website that provides both STD resources and connects you with affordable and private testing options.