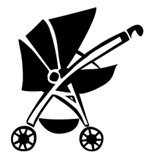 This article by Tara Parker-Pope appeared in The New York Times Magazine (3.25.2012).  I found it most interesting and thought I'd share it in its entirety.   
*                                *                                 *
Once during a disagreement with my husband, I complained that he wasn't helping enough with our daughter, and I gave him a long list of the parenting chores I was shouldering on my own. "But you like doing all that stuff," he blurted in his defense.