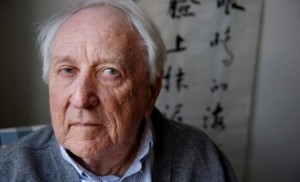 This week, the Swedish Academy selected Swedish poet Tomas Tranströmer  as the winner of the Nobel Prize for literature. Considered one of Scandinavia's most important poets, Tranströmer has published in more than 60 languages and has been championed in the U.S. by the poet Robert Bly.  Tranströmer has been partially paralyzed and unable to speak since he suffered a stroke in 1990, but he has continued to write.

His surreal, often bleak, poems explore themes of nature, emotion, isolation and identity; in the words of Poets.org, his poems "barrel into the void, striving to understand and grapple with the unknowable, searching for transcendence."  Writes critic Katie Paterson, his poetry "places images together in unexpected and beautiful ways and holds them steady enough to create unmistakable tension, even if it doesn't always tell the reader what that tension is for."
Curiously, Tranströmer is a psychotherapist as well as a poet. Once, when asked whether his work as a psychotherapist affected his poetry, Tranströmer wondered aloud why no one asked him whether the opposite was actually the case.
*                        *                      *
A sample poem by Tranströmer for your enjoyment:
The Tree and the Sky
There's a tree walking around in the rain,
it rushes past us in the pouring grey.
It has an errand. It gathers life
out of the rain like a blackbird in an orchard.
When the rain stops so does the tree.
There it is, quiet on clear nights
waiting as we do for the moment
when the snowflakes blossom in space.